What will your fishing story be?
Lake Nipissing is known for its great fishing. Better yet, we have the hottest fishing hole for walleye and perch on the south shore of Nipissing. Bait is available for purchase during your stay.
The fishing season for Walleye, Perch, Northern Pike, Largemouth and Smallmouth Bass begins on January 1 and runs until March 15. The season opens again on the third Saturday in May, closing for Walleye, Perch and Northern pike on October 15. Largemouth and Smallmouth Bass continues until November 30. Muskellunge is open the third Saturday in June until November 30.
---
Ice Fishing Rates
All cottages have a 4 person minimum, minimum 2 night stay
All costs are per person
Kids under 5 are free
Ice fishing packages include one of our clean and cozy cottages, fully furnished, and include bed linens. Transportation to and from the hut and bait (1 dz minnows per person) are included. Tip ups are provided upon request.
Weekend rates per person:
ALL rates are subject to HST.
Minimum of 2 nights, 3 nights on the Family Day weekend.
Weekdays price per person based on 4 people minimum:
Minimum of 2 nights.
Monday to Thursday (3 nights / 2 days fishing) $250.00
Friday to Sunday
4 guests: $1200
5 guests: $1500
6 guests: $1800
3 Nights and 2 Days Fishing
4 guests: $1460
5 guests: $1825
6 guests: $2190
3 Nights and 3 Days Fishing
4 guests: $1660
5 guests: $2075
6 guests: $2490
A deposit of $400 is required per cottage in November 2022 for the 2023 ice fishing season.

The deposit is fully refundable if the booking is cancelled 30+ days prior to the reservation date.

The deposit is forfeited if the booking is cancelled within 14 to 29 days of the reservation date, less a $50 cancellation fee.

If the booking is cancelled with less than 2 weeks notice, the customer is responsible for the full charge of the cottage for a minimum of 4 people for the days included in the reservation.

If we can fill the vacancy, the customer will be refunded the full amount less the deposit. Please remember that mother nature is in control of the ice fishing dates. We are hoping to be operational January 1st through March 15th.
Clean your catch
Our fish cleaning station is clean, enclosed, and convenient with both hydro and running water.
It's not hard to find a fish fry happening around here!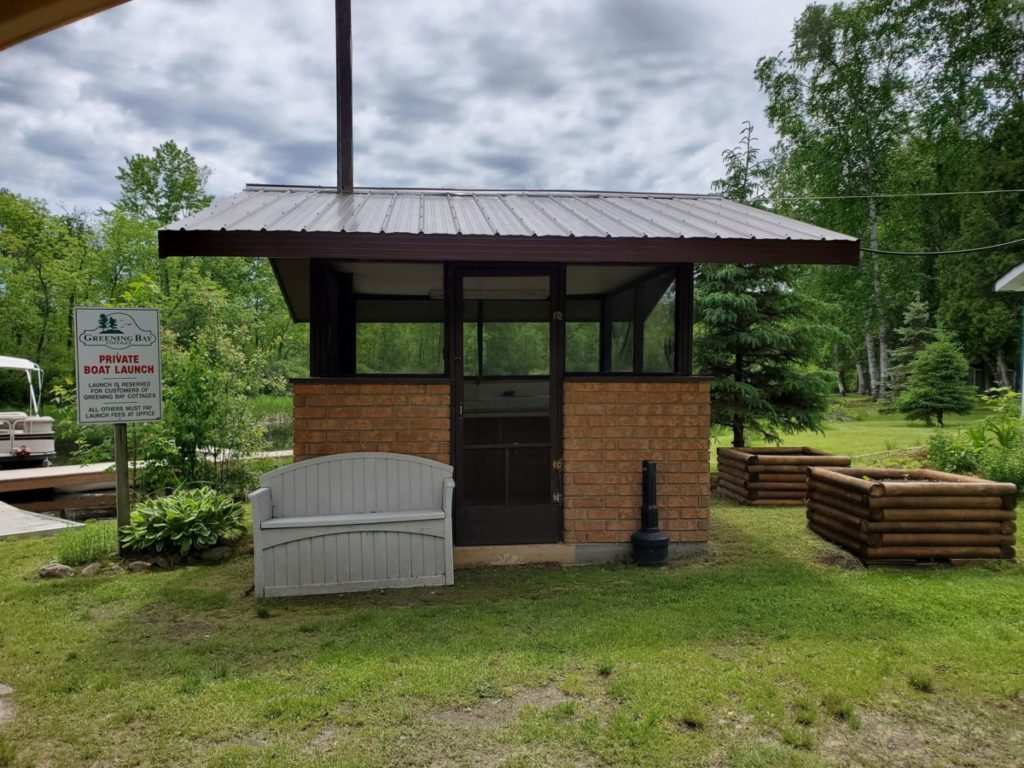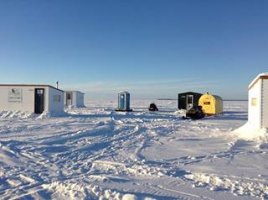 Ice Fishing
Visit us in the winter months for an ice fishing get away. We rent several huts and move them around to where the fish are biting — usually about 2 to 6 kilometres from shore. Huts are heated before you get there and the holes are drilled so you can start fishing right away.
---
Learn more about fishing on Lake Nipissing
Please visit the Government of Ontario website to learn more about fishing in Ontario. The site provides fishing notices and updates as well as information about fishing licenses, outdoors card, limits and restrictions, and eating Ontario fish.
Note that we are in Fisheries Management Zone 11 (Please see the exceptions section for Lake Nipissing). Find more specific information about this zone here.